The Biden administration has made well-publicised commitments to achieving a zero-carbon power grid by 2050, with massive investment and employment pledges for wind, solar and hydropower.
Since making such bold promises towards tackling climate change, experts from across the country - and indeed the world - have been opining on whether the ambitious goal for the United States is feasible.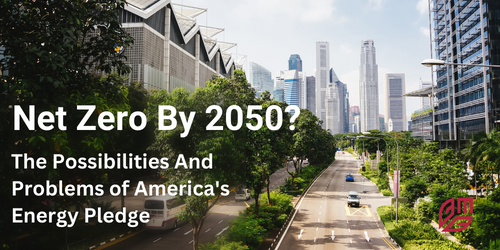 Many are saying it can and must be achieved. They present a variety of different estimates as to the total cost and size of such a project. Others disagree that the target is achievable, or even desirable - within any deadline! But most researchers concur on one thing: the drive to replace fossil fuel power plants with renewable sources; the building of thousands of miles of transmission lines; and the electrification of transportation and heating are colossal and expensive undertakings that will require a relative army of people to deliver.
In a country that still suffers more energy brownouts than any other developed nation; as the second-largest global emitter of carbon dioxide amid growing 'climate disaster' concerns; and at a time in which consumers are crying out for change - both demand and impetus are clearly there. Plus there's a multitude of tangible benefits to be enjoyed in this confident green transition - from better public health through improved air quality, to lower energy costs and job creation..
But is the United States racing down a path towards third-world electricity reliability and power security? Or is it practicable for all states to meet 100% of the electricity consumption needs of their households, businesses, and institutions from renewable sources?
At CMC we see the boundless potential for solar farms and wind projects. We're involved in exciting hydropower developments and major prospects for transmission, distribution, and energy storage. Speaking to developers and power professionals on a daily basis gives us solid insight into the current state of play, the opportunities and the barriers to progress.
Powerful progress for renewable power
Let's look at the current pace of change: across the states, renewable energy generation has almost quadrupled in the last decade.
This solar power production was a massive 23 times greater than it was in 2011, while wind energy generation has more than tripled. This has been achieved through rapid efficiency and yield-boosting technological advancements, attracting investment and leading to economies of scale benefits. On top of this, state-level policies and incentives have played a role in subsidising the building of a growing renewable infrastructure.
What's been achieved over a decade is certainly encouraging. In the coming years we can expect power project developments and the political goodwill to fuel them to grow exponentially. But it's also important to recognise the multitude of challenges that obstruct the road ahead. To identify - and prepare for - the obstacles along the way.
When the wind changes…
Renewable energy production is dependent on weather conditions. The two main sources are solar and wind, but clearly the sun doesn't always shine and the wind doesn't always blow!
The total size of the United States is almost 3,8 million square miles, offering ample space to build power plants to generate huge amounts of solar, wind and hydro power. The country is famous for the wonderful diversity of its landscape, meaning the options for renewable energy vary wildly from state to state. Across the prairies of mid North America you have awesome opportunities for wind, while the sunshine state is blessed with wall-to-wall…sunshine! But when considering the country as a whole you have to factor in the likes of Alaska, where some regions can go weeks without sunlight.
This intermittency of availability is typically highlighted by renewable energy's critics as its largest drawback.
Transmission troubles
Often the perfect place to harness the full power of the elements is found many miles from the largest of demand centres, or even civilisation itself! If energy could be stored on the grid then this wouldn't be such an issue. But in order to achieve net zero status, the country-wide grid capacity will need to increase by many orders of magnitude. In fact, experts estimate that anything from a doubling - to a quintupling - of current capacity levels is required.
When this is achieved it will open up fantastic opportunities to use time differences to move renewable electricity from one place to another. Think long-range, DC transmission lines from coast-to-coast, so that Californians can wake up to sun energy from New York.
But why limit the cables to the US? One day perhaps we will run cables around the world so that Amercians could use power generated in Middle Eastern countries while their population is sleeping, and vice versa.
Before we get too carried away with such lofty dreams, there are some immediate nightmares to confront.
The Covid-19 pandemic-derived supply chain issues have created a perfect storm of equipment, parts and metals shortages. Now the US is facing a scarcity of transformers — everything from smaller, pole-top units on city streets to massive industrial equipment. This is no small problem. Even if we exclude the clean energy transition, government agencies have gone as far as to describe the transformer steel supply shortage as a national security issue!
A matter of minerals
The green energy revolution requires more critical minerals than traditional sources. For example, a modern onshore wind plant needs up to nine times more mineral resources than a traditional gas-fired plant. As the share of renewables has grown over the last decade, the amount of minerals needed per unit of power generation capacity has increased by 50%.
In order to build effective solar power plants you need vast supplies of arsenic, gallium or indium. To manufacture powerful, durable wind turbines you need huge amounts of aluminium. The demand is presently outstripping supply, which is naturally pushing up the prices of these products.
Given the influence of the green lobby and the shift in public opinion, it's become increasingly difficult to launch domestic mining operations. There's a growing concern that - by directing the country towards net zero status, in parallel with reducing the mining opportunities - you push the country further into energy dependency on China.
Policies, programs and partnerships
We will need to see a raft of comprehensive energy policies and programs that must be paired with renewable electricity standards to succeed. Directives that not only address electricity consumption, but also electricity generation. Government support at a local and national level that will enable an equitable transition to a clean energy economy. We feel that much progress can be achieved through think tanks and coalitions of like-minded people and organisations.
Take the Clean Energy States Alliance (CESA), for example. It's a leading bipartisan coalition of state energy agencies working together. It was only established this year, but already 21 states have adopted 100% clean energy goals through the initiative. Most of these are commitments to 2050, but some are aiming for as early as ten years from now.
People shaped problems
There's already an urgent demand for the best people to steer the right progress forward. A situation in which the requirement for candidates far exceeds the potential current supply. As more states get on board with the net-zero goals this predicament will exacerbate.
Fresh opportunities in solar farm and wind-facility installation will increase the need for a wide range of experienced people from electricians to pipefitters and welders. We will also need masses of manufacturing, sales, financing, and maintenance experts.
Companies across the US are already desperate for experienced people with deep technical knowledge of the energy sector. People whose skills have been tried and tested across mature renewable energy markets. Thankfully for our clients, our consultants understand the technologies, working practices and communication styles of the major OEMs, finance houses and developers. This makes us perfectly positioned to support any offshore and onshore solar, wind or battery storage projects on the green, decarbonised horizon.
Sitting on the electrified fence!
So, we've discussed the current state of play, the possibilities and the problems. But the question remains - are the 2050 net-zero power goals achievable?
We look with green eyes to a future in which different states combine wind, solar - with the perfect backup of hydropower - to rise to the challenge. Given the diversity of the geography, there will inevitably be big differences in terms of the renewable energy share from one location to the next.
At CMC we believe that both the target and timescales are hugely ambitious, challenging and eye-wateringly expensive! But we take a positive view. We feel that they can and will be achieved if this goodwill and pressure continues - with ongoing political support from future administrations, industry and the American people. This gargantuan project will require a collaborative, joined-up approach with in-depth planning to keep the grid stable, plus firm yet realistic progress milestones to check against along the way.
To find out more about how we do things differently and understand how we have become a tried and trusted name in solving the people problems of major renewable energy outfits… contact us today.